Shade, "The Changing Woman"
Shade, The Changing Man #27-29, 32, 63-70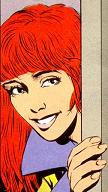 <Soapbox mode on>
As you've probably guessed by now, I've collected a fairly sizable amount of TG comics and fiction, so I think you'll take me seriously when I say that aside from Mantra, issues 27, 28 and 29 of Shade may very well be the best TG treatment I've ever seen in the comics. It's something of a rarity to see artwork, story and characters really come in synch in a comic, and if you're also looking for a TG element, forget it. But in my opinion, these three issues really brought the whole package together.
On the surface, the story is like almost all TG fiction out there...a man wakes up as a gorgeous woman, and is forced to deal with female clothing and men's advances. There is a more than passing reference to dealing with PMS, the "heroine" has sex with the first man she comes across, and there is even the obligatory urinal joke. But the story works because these are ultimately just gimmicks.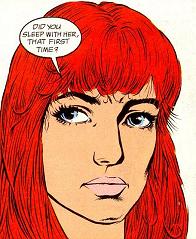 The story is primarily a murder mystery involving twin sisters, a senator's secret, and one extremely messed-up little kid, but what really sells this is the characters. Shade, Kathy and Lenny are complex, well-crafted individuals who play well off each other, and have grown accustomed to the strangeness that surrounds them. From their reactions and conversations, you get the impression of a shared history we only get glimpses of. (The fantastic artwork doesn't hurt, either.

)
<Soapbox mode off>
Shade's female body makes a minor appearance a few issues later. (Well, parts of it do, anyway.) The comic also introduces another TG subplot during the last issues of the series when Shade's son George is put into the body of Lenny's daughter, Lilly. (It's a long story.) When the series wraps up, George is still in Lilly's body.
---
Shade as Naomi
George as Lilly
---