Lusiphur ("Lucy")
Poison Elves #35-39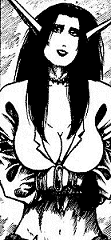 Some people just have no sense of humor.
Take the elf Lusiphur, for instance. Okay, he's a tough-as-nails thief and mercenary with a short fuse and an itchy trigger finger. But one little misunderstanding, and he goes and flies off the handle, killing a sorceress just because she accidentally turned him into a woman. Talk about poor coping skills.
In his defense, he had been having kind of a tough day...the entire city guard was after both Luse and his friend Jace. Cornered and trapped, they were suddenly saved by a strange sorceress who offers to help them. Luse is naturally suspicious, and declines. (It turns out he was right to be worried...she had been sent to use her feminine wiles to "tempt" him.) So, since he's reluctant to trust her, she decides to cast a love spell on him. Unfortunately, something goes awry and Luse finds himself transformed into "Lucy."
Luse has some difficulty adapting to his new situation, but Jace, ever the steadfast friend and comrade-in-arms treats the situation with complete discretion and utmost seriousness.
Oh, sure he does.

---
Covers
---
Initial Transformation
Encounter at the Choking Goat Inn
The Adventures of the Purple Marauder
Escape From Mandratha
---